Your Signature Style in Exotic Wood
Let your imagination run wild. We're doing traditional hardwoods such as alder, flame maple, figured swamp ash and Walnut, but have you ever dreamed of something a little more "out there?" Imagine a purpleheart fingerboard on a bloodwood neck and a Padouk body. That's purple, red and orange, all in natural colors of those woods. Black Limba (Korina), Wenge, figured Macasar ebony, Zebrawood, Bubinga, we could go on and on. Or perhaps you'd like what we're calling the Traditional Woody, just a straight-up alder body, rosewood fingerboard on maple neck, the standard Fender woods, in a satin finish?
Exquisite woods deserve no cutting of the corners in componentry, and David decided to spec the Woodies with his personal favorites: Bartolini 9J1 pickups, Schaller bridge with Hipshot Ultralite tuners, for reasons detailed below. For electronics, our time- and road-tested onboard Groov-a-Tone system. David says, "Remember that ad campaign 'Beef. It's what's for dinner'? Well, Hipshot, it's what's for tuners. Probably the best there is and American made. But, as always, if something else component-wise is your heart's desire, we'll take care if you.


Every Woody has one thing in common: an understated elegance of natural, beautiful wood crafted into fine basses by American artisans.
---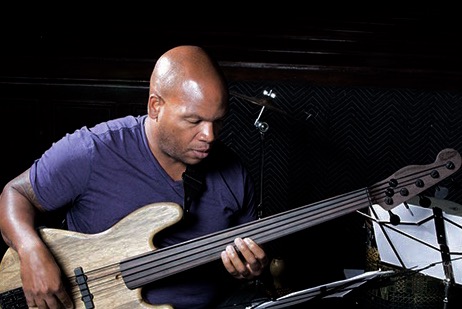 The Grammy-winning Mark Peterson got his Woody on 2014, and he still can't keep his hands off of it.
Why? It's hard to beat a Woody.

Check out some of our Woodies and let's talk about what you like.



---
- The bass's neck is the heart of every bass, and therein lies much of the character of the instrument both functionally and in appearance. When departing from the traditional rosewood and maple, we must meet the criteria of beauty and uniqueness as well as, and most importantly, function. Not all pretty wood makes a good fingerboard or neck, but our experience and knowledge of hardwoods as well as bass lutherie assure the cross-section of performance and beauty. Purpleheart and bloodwood make excellent fingerboards, and one our favorites is Macasar ebony. These are very hard woods and function much like maple. Bubinga, Wenge, all excellent neck and fingerboard woods, too, and we'll always love flame maple. Part of the thought process of designing your woody should include how the fingerboard, neck and headstock and body look together. We can help you brainstorm, just drop us an email.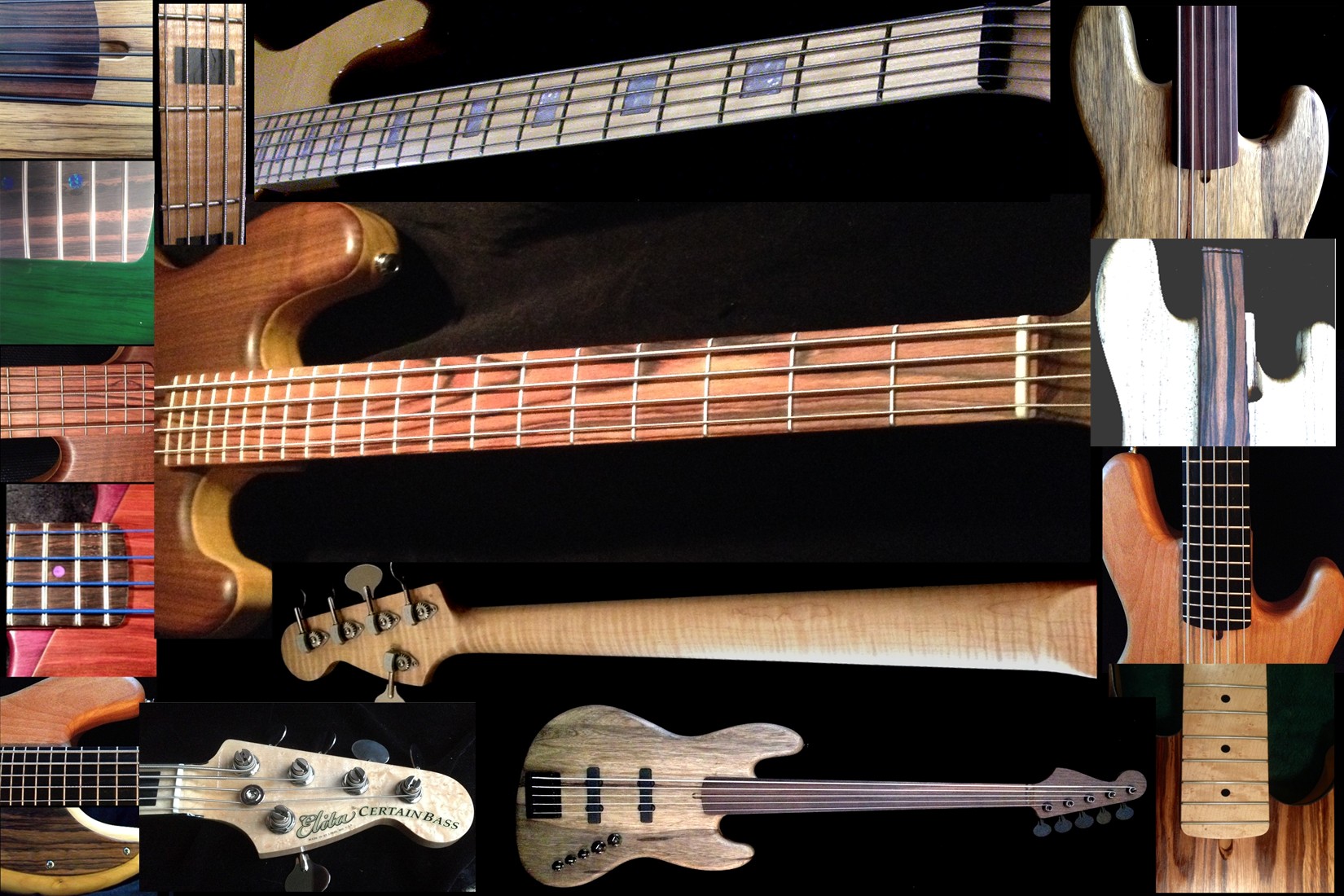 ---
- The standard electronic configuration for our Woodies is our highest standard, the onboard version of our sophisticated passive tone filter, the Groov-a-Tone. When you have two pickups, it's a 5 knob system: volume/volume/mid cut frequency/amount of mid cut/high end roll-off. For those of you who don't use the normal tone control on a regular bass, we remove our high-end roll-off for a 4 knob system. What this means is you can plug your bass into anything and get a great sound, bass amp, direct line for recording or performance. Engineers love it because there is no setting that's not in the realm of reasonableness. Whatever you plug into, you're going to still get a rich tone. In a rehearsal where all there was was a guitar amp, plugged in, got really good sound. Another instance - amp blew up at a gig, there was only a 12" speakered PA on stands. I plugged into a channel set flat, and done. Got a fat sound and made it through the gig and no one knew but us. This system places you in the mix to cut with tone as opposed to volume because your sound becomes so fat, no one else in the band is operating in those frequencies. Your instrument is voiced, and settings you choose are consistent and easily repeatable. Now you can set your amp EQ flat and just use it to compensate for the room instead of making your sound for you. It's in the bass; it's everywhere you go, 100% passive no batteries, indestructible. We've just started making the Groov-a-Tone in a pedal style as pictured, but we've had this stuff in our basses for years. To assure that you want this system in your new bass, we'll send you one of the boxes to try out.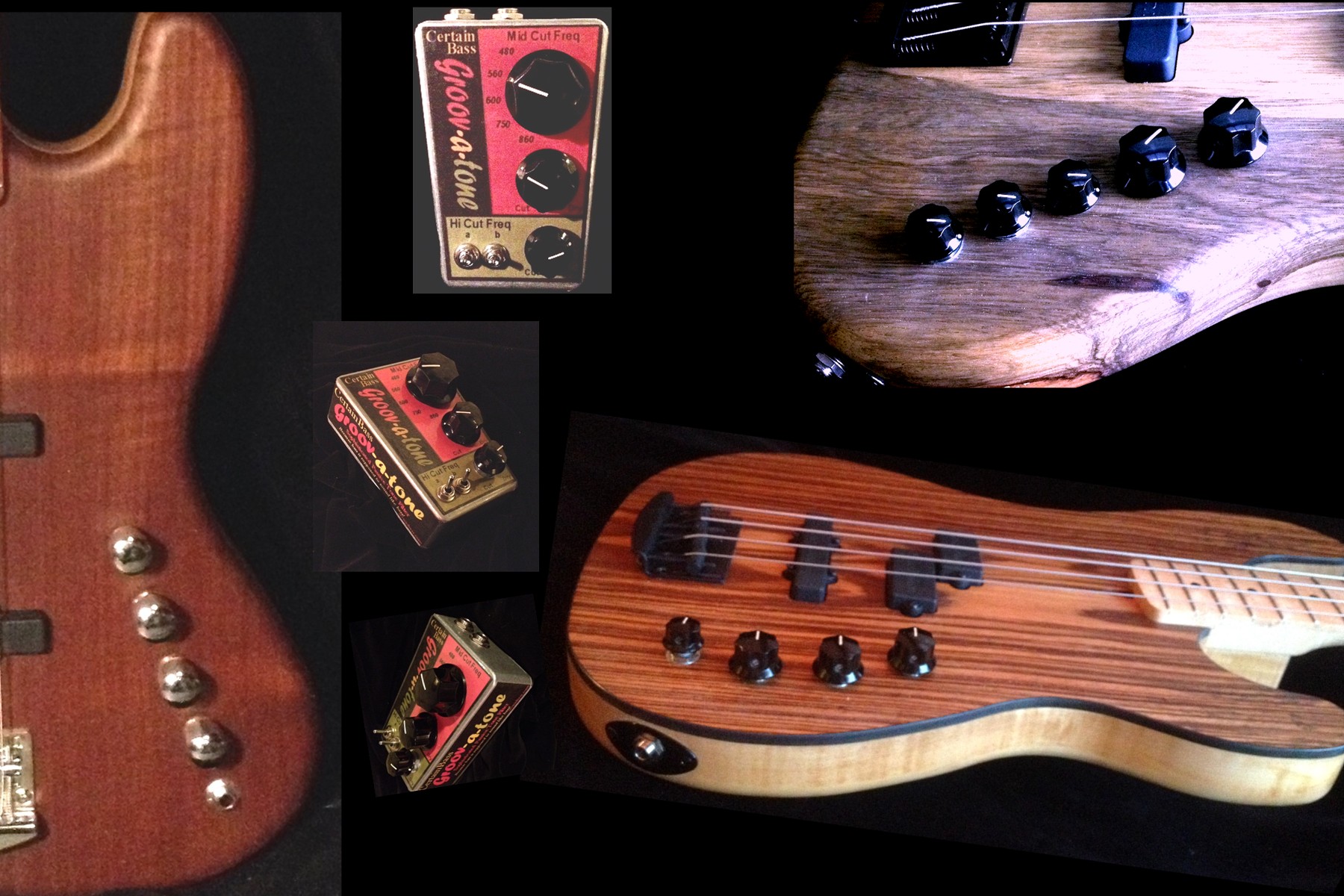 ---
- Our standard pickup is also a high standard - in our opinion the most musical bass pickups, Bartolini 9J1. It's what I use in my own basses, have for years. And here's why: there's basically Bartolini and Fender and everyone else, and about everyone else is the Fender design modified in various incantations, Duncan, Fralin, etc aren't doing anything new really. While Fender style pickups have a hard midrange edge, Bartolinis have a softer edge. And probably the best feature of this particular model, the 9J1's, is they call it a bright neck and a deep bridge. You know how on a normal Jazz bass you turn down the neck pickup and all the bottom drops out? The bridge pickup is perceived as a thinner sound. With the 9J1's, you can go from neck to bridge, and you get that difference in tone from woody to horn-like, but both pickups have a fairly equal perceived amount of bass. I once did a whole tour and an album with just a 9J1 bridge pickup. What else? They're fully hum cancelling, too! But if you're hooked on something else like I'm hooked on Bartolini, we will accomodate you.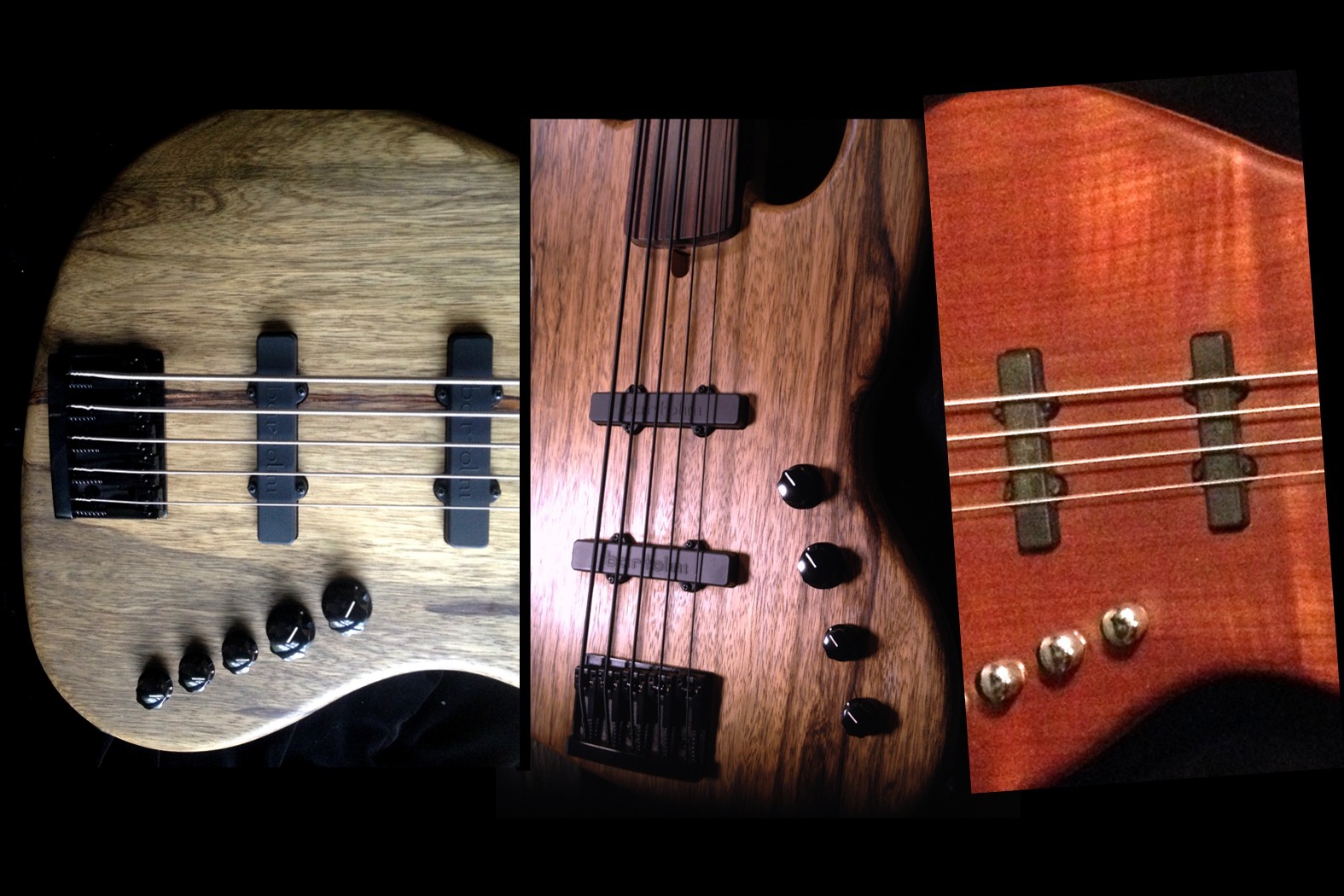 ---
- And the Schaller model 463 bridge for 4-string bass and model 496 for 5-string bass. With its radiused base plate, high mass and roller saddles that make string spacing adjustments easy and quick, we think it's an excellent design that has been around since late 70's.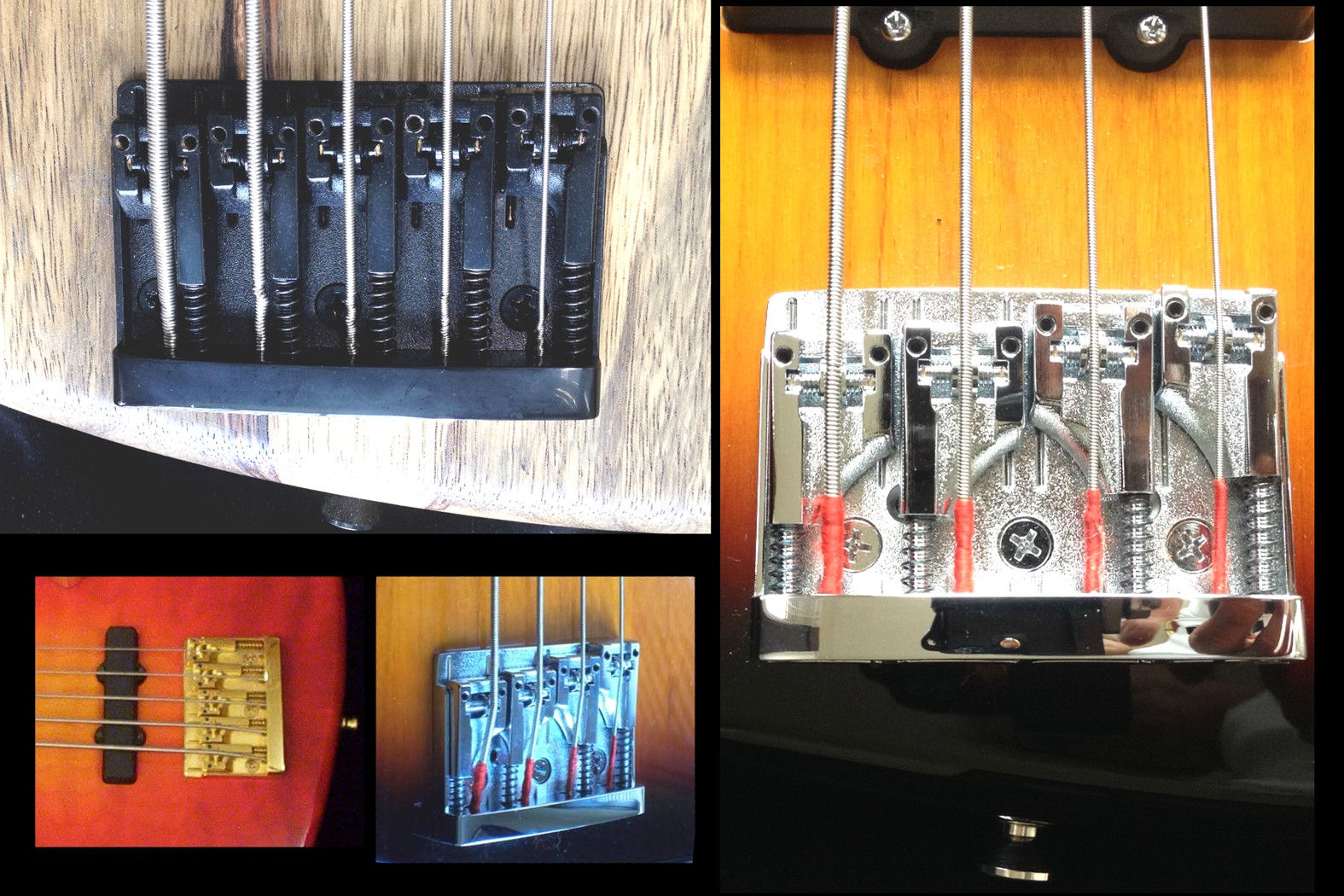 ---
- How important are tuners? As important as it is to stay in tune! Gotohs and even Schaller and others have play in them thanks to a sloppy worm gear. Hipshot Ultralites don't have this problem. Tight. Ultra solid and beautiful. We've been digging the lollipop oval style key like Fender spec'd for a few years in the 60's. But you can choose the traditional clover leaf style. Also, Hipshot has two lines, one made in USA and "Hipshot licenced" tuners in Asia. The latter is not available to the general public but to dealers only. The US made tuners have "USA" clearly embossed while the Asian versions don't say. To tell you the truth, the Asian keys are very good and a great value, but a big part of our company ethic is about Americans contributing to the local economy while showing the world a good side of our people in design, craftsmanship and service to our clientele. Long story short, we feel Hipshot make the best bass tuners, period.
<![if !vml]>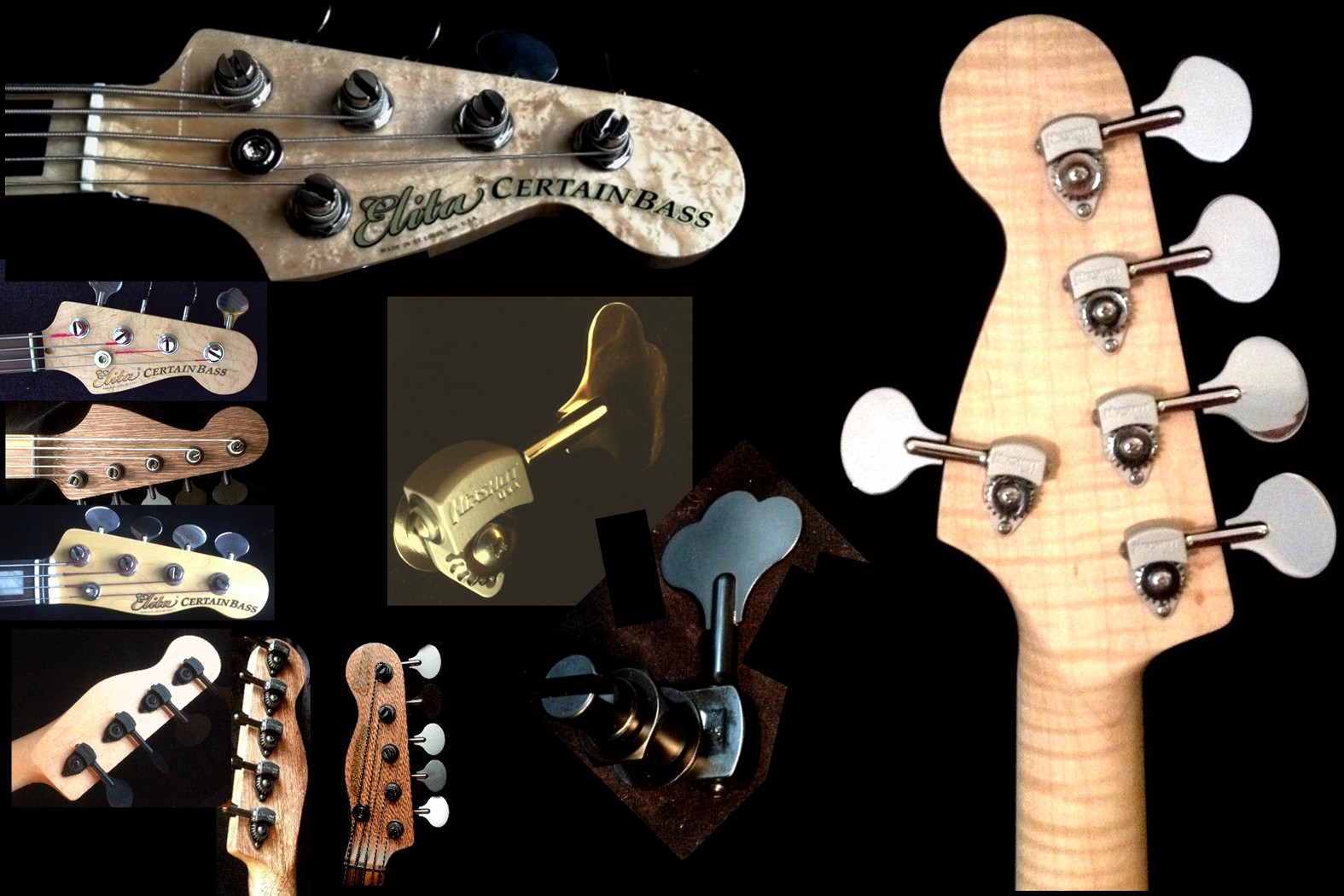 <![endif]> <![if !vml]><![endif]>

---
- Our cases look much like vintage Fender cases on the outside, but the layout on the inside is much better. The compartment is big enough for a good sized music book and cables, tuner. You can even fit one of the many micro bass heads that are out there.
<![if !vml]>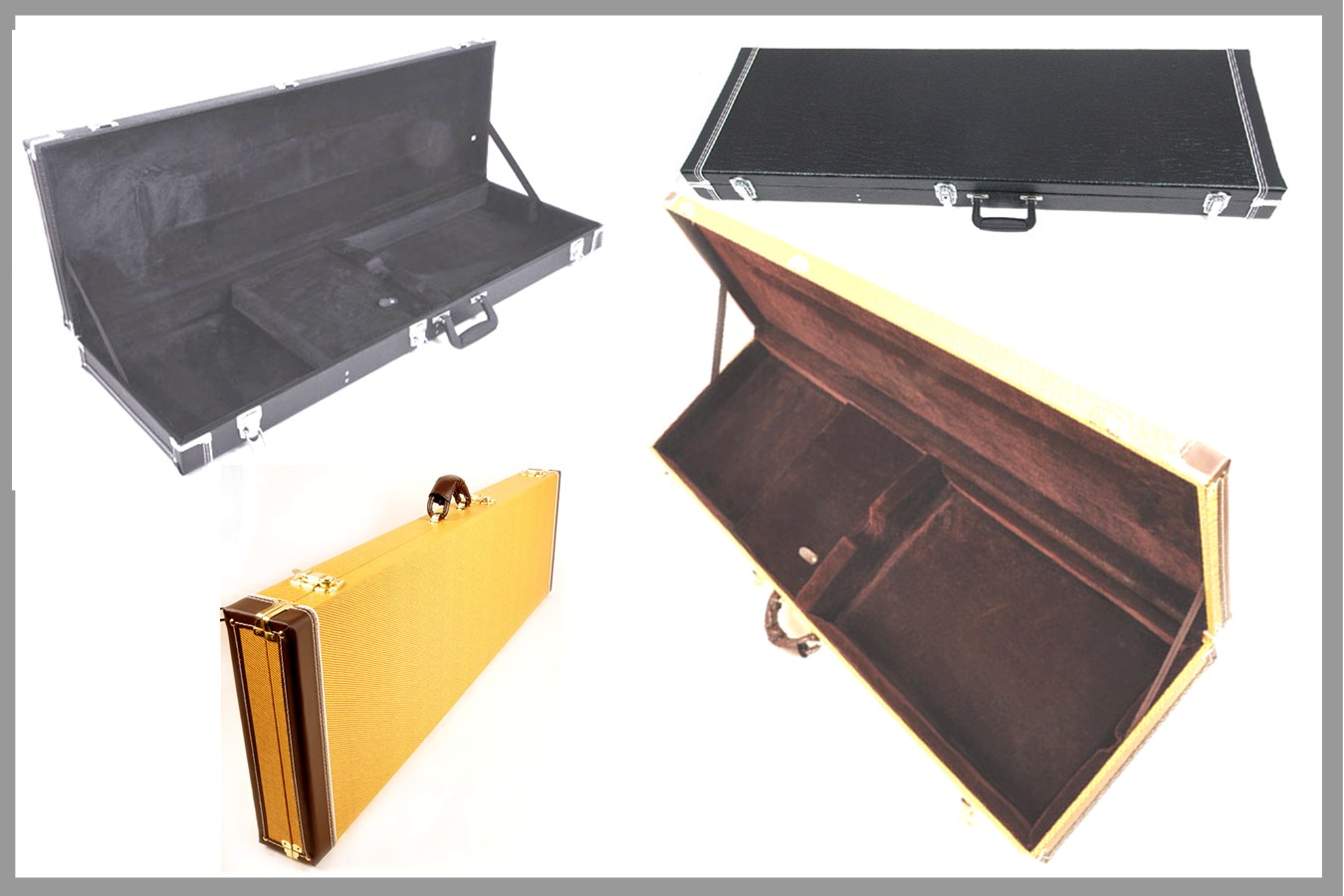 <![endif]> <![if !vml]><![endif]>

---