As a maker of custom basses, CertainBass has been garnering acceptance of professional bassists
the world over not only for our basses but for our Varitone and passive filters.
Our latest product, the Groov-a-Tone, truly a labor of love.
If you're going to groove, groove a tone. Groove a big tone.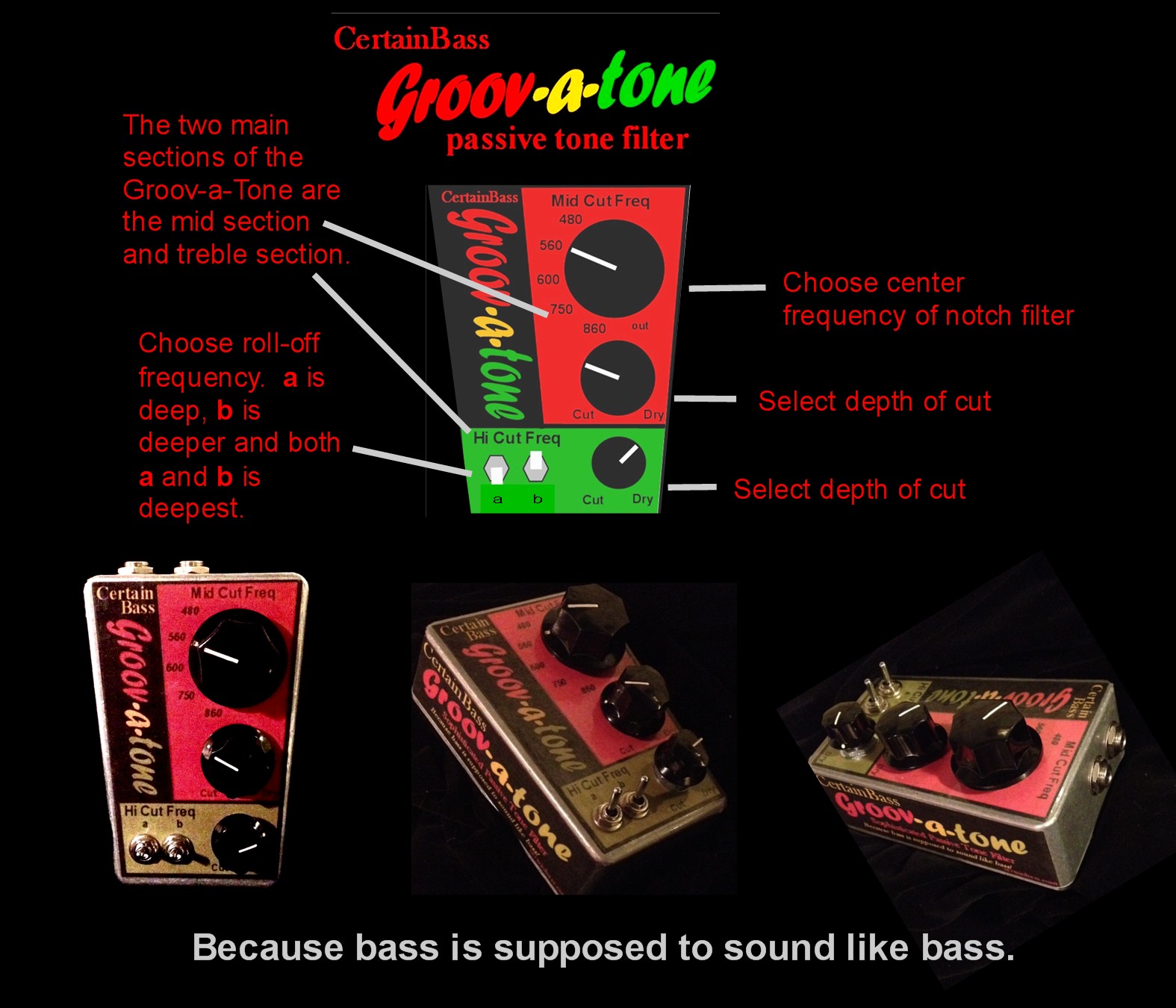 Bass is supposed to sound like bass, fat, big, warm and clean. Organic. The Groov-a-Tone is for those of you who play deep bass the most extreme of which, in my opinion, are reggae cats. They kill all the highs and mids. But there are applications not so extreme like the blues, gospel bassists who need to cut under a 100 voice choir, large Salsa, Afro-Cuban ensembles and the blues, especially the blues. We like deep and organic, but sometimes i need the bright slap tone that will take the top of your head off, the Groov-a-Tone has that, too, lower midrange dip with strong low and a metallic highs, in a couple of flavors. Start knocking some of those metallic highs, and you're headed for dub style. From Family Man to Marcus on a dime with Jamerson and Jaco lurking in between.
First question you might have is "What exactly is a passive filter and why are they so great?" First of all, it's old school Back in the olden days, say you wanted to boost the low-end on your bass track, what we did is cut the highs and mid range then turn the track up. That's how we added bass. Passive filters only cut frequencies, they don't add. Active systems add noise while passive systems are quiet and reduce noise while shaping your tone. And passive systems are warmer, they just sound good while actives are often sterile or brittle. The big kicker is no battery. That's right, the Groov-a-Tone is a green machine in that we're not littering batteries, but, most importantly, you don't have to buy them!
Groov-a-Tone gives you many sounds including the most important ones: yours.
Here's how it does all this. There are two sections, a mid range section and a high end treble section. The top knob puts in a notch filter which is a midrange cut that's very deep but narrow. Adjusting this knob decides the center frequency of what you want to clean up as well as the character of the overall tone. You can see the center frequencies on the unit. Because the notch is deep, the middle knob decides how deep the notch goes. You can easily hone in on a sound then tweak the amount of change. All the way clockwise is bypass and all the counter clockwise is full cut. The in betweens are where the action is, and we experimented and found the optimum pot values for a nice, even sweep. The other section is the high end cut section Same as the midrange cut section, all the way counterclockwise is full cut, but instead of taking out a slice like the mid section does, this rounds off the top in a nice gradual high end roll-off. The two switches decide how deep the roll-off goes while the bottom knob determines how much. The roll-off switches are a customizable feature, and it's good for A/B'ing different values of capacitors or different caps of the same value such as a poly film cap vs. paper in oil. Because they are made to order, we promise delivery within a week to ten days.
I don't always groove, but when I do, I groove a tone. Nah, not really, I always groove.
With Groov-a-Tone, of course!
I should mention too that the electronics inside the box are not new to us. We've been putting this and other systems in the basses we make for years. What's new is the box design. This allows people to get their sound on all their basses without modifying any basses, and it's a nice occupant of the producer's brief case.
Here is a video (also on our CertainBass Facebook page) showing what the Groov-a-Tone can do for you. We'll try to post it here soon.
Here's what the Grammy-winning producer Mark Prentice has to say: "Okay ... Buy this. Trust me, just do it. I sorta hate revealing my secret weapons, but David's work is just too cool to keep to myself. First, it's pocket change; I've had bigger bar tabs. The vintage tones are incredible, spot on to the whole Jamerson, Duck, Rainey thing (the Grail, in my humble opinion) and the brighter tones are also awesome. And dig, you can get right back to the tone you want, any time, every time. This thing is made by a guy who's not only a smokin', seasoned pro player, but a superior builder and a true student and historian of the deeper electric bass story and tradition. And as if that ain't enough, try it for 30 days and if you're not thrilled, he'll refund your money. You can thank me later."
- Mark Prentice who has performed with and/or produced Elvis Costello, John Fogarty, Lyle Lovett, BJ Thomas, Delbert McClinton, Ricky Skaggs, Olivia Newton-John, Amy Grant, Vince Gill, Johnny Cash, Don McLean, Crystal Gayle, Michael McDonald, Bruce Springsteen, Steven Van Zandt, Bruce Hornsby, Charley Pride, Steve Earle, Billy Preston, Ben E. King, Patti Page, Bo Diddley, Mitch Ryder, and others.
UNCONDITIONAL MONEY BACK GUARANTEE: Use it for no more than 30 days,
and if you don't LOVE it and can live without it, return it for a full refund.



david@certainbass.com or 314 762 0902
Return to Home Page