Besides getting the wood stove fired back up for the season to warm up my workshop/office/studio we have had some noteworthy activities for CertainBasses out there in the field, plus we have an additional product line and one special offer on a truly unique bass.
What's New No. 1 is that CertainBass Varitone addict Johnny Bradley will be performing with Gary Clark Jr. on the David Letterman Show on Friday, December 16th. People ask for sound clips, and we have 'em on CertainBass.com, but check out Johnny. He has a Fender sponsorship, but he installed the CertainBass Varitone in it; he can't live without it, and I can't blame him!
What's New No. 2 is CertainBassist Mark Peterson has had quite a recording schedule as of late with his two CertainBasses: the fretted Candy Apple Red Jazz with Bartolini pickups with mother of pearly block inlay and bound neck and CertainBass Varitone, and his new Sunburst Lined Fretless Jazz with Bartolini pickups and CertainBass Varitone (he and I use the same electronic set-up). About a month ago he completed tracks for the legendary pianist Bob James' new album. So we're pleased to have our basses on such a big deal. I've been inspired by and digging Bob James since the 70's on those CTI recordings. Another record Mark plays our basses on is Ben E. King's latest recording effort. And he was kind enough to send a picture of the whole group and with him holding his CertainBass with high visibility of the headstock, see below: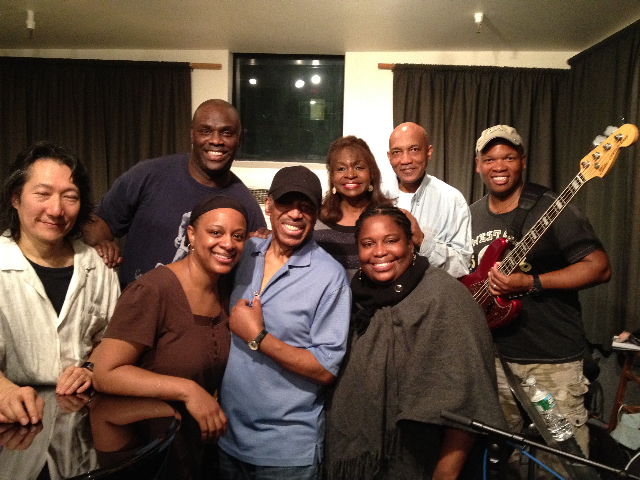 And here's Mark with his new fretless: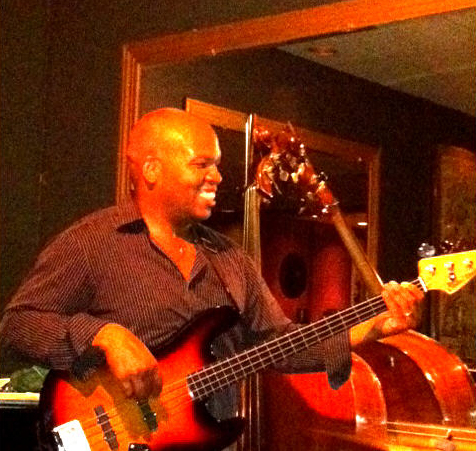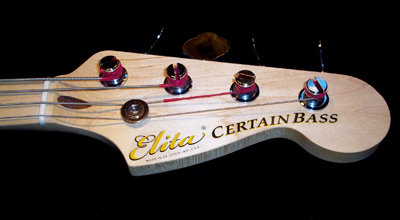 What's New No. 3 is CertainBassist George Potsos is on tour, again, with Devon Allman and the Honey Tribe. Devon is Gregg Allman's son, and they do a hell of a job documenting the sound and advancing it. This photo is George's view from the stage at the 2011 Rock Legends Cruise. Over 30 bands. Headliner was ZZ Top. Johnny Winter, Foghat and several others were on the bill. Hey George, let me know if you ever need a sub!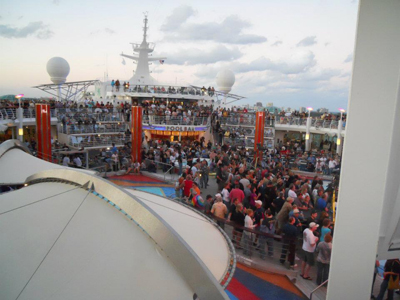 What's New No. 4 is a whole new product line here at CertainBass. I don't have a name for it yet, but we're talking Precisions and Jazzes with hand rubbed oil finishes. The one you see below we just shipped to new CertainBassist Howard Linton of Zurich Switzerland.

We first stained the body with an ebony stain, then oiled the neck and body and the maple pickguard. You read that correctly: we're doing wooden pickguards now. In this build it was important for me to match the maple pickguard with the maple neck.
So what should we call this product line? Any suggestions?
What's New No. 5 - Ladies and gentlemen, I'm sorry, but I forgot to try to get you to buy something! What was I thinking? Here's a super special deal price on a one-of-a-kind modified CertainBass Model One. It's a beautiful, unique and last of this Mohican. It's a modified Certain Model One for HALF PRICE. You read that correctly, HALF PRICE. From $1450 to $725, and I'll even ship it via fully insured FedEx for FREE!
Maple top on mahogany body. The whole bass comes in at a mere 9.14 lbs. like our 50 year-old vintage friends.
Rosewood fingerboard on maple neck. Stunning figuring on fingerboard! Truss rod adjustment at the heel, Music man style. Standard skinny Jazz 1.5 inches at the nut.
The bridge is a heavy mass gold bridge, string-through style. Can be strung top mount as well.
Pickups are Bartolini 9J1's (just like Mark Peterson's bass)
CTS Potentiometers and Switchcraft jack and black and white cloth covered wire just like what Leo used to use back in the day, the stuff that's lasted over 50 years on vintage basses.
CertainBass Varitone with your choice of blend or master high end roll-off.
Fender Jazz bass set-screw style knobs, slot screws, not Allen or push-on like on imports.
Also, this bass has my hand carved bone nut, old school all the way!
Neck pickup is a little closer to the neck than standard Fender. This baby really growls!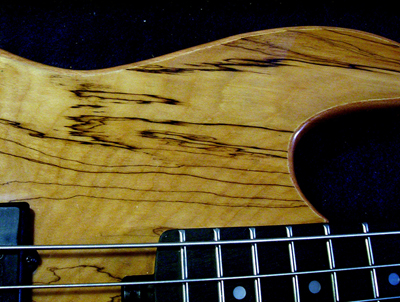 Wilkinson tuning keys.
All gold hardware including Dunlop straplocks.
Just to make sure you don't think you were dreaming, let me repeat - HALF PRICE! From $1450 to $725, and I'll even ship it via fully insured FedEx for FREE!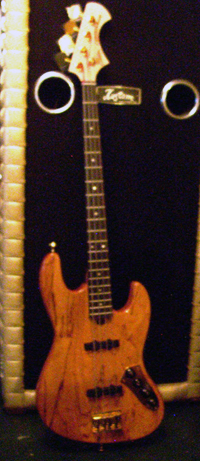 Now, because we sell things people buy for themselves, professional tools, we don't get to have a Black Friday or a Cyber Monday or even a Local Saturday. But that's OK, because I know on the 26th a lot of you will get gifts of cold, hard cash, and you're going to send it to me to make you your next favorite bass! Hahaha! Hohoho! Seriously, we all have much to be grateful for in this holiday season. Yes, things could be worse. So let's appreciate where we are, who we are and be very grateful we can play music. And I wish you the best and most spiritual holiday season! And be sure to play some music for your family!