---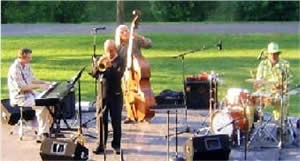 David with Eddie Henderson Quartet with Greg Bandy, drums, Roger Friedman, keys.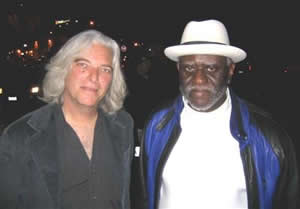 David with legendary saxophonist Pharoah Sanders in Los Angeles.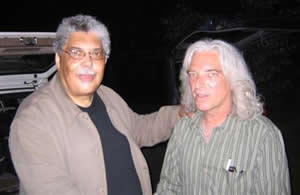 David with Rufus Reid after playing a double bill with Rufus Reid Quintet and Eddie Henderson Quartet.
Mr. Reid is probably most noted for his seminal book, The Evolving Bassist, a must-have method book for all bassists.


---
Current Setup:
Basses:
Rebuilt 1952 Kay upright found in trash dumpster in pieces in NYC
CertainBass J style fretless

Amps for acoustic bass:
GK MB150E combo
GK MB150E head
GK 150 MBE 12" extension cabinet
EV SRO 12" extension cabinet
---
david@certainbass.com or 314 762 0902
Return to Home Page