People ask, "How did you start making basses for people?"

As a teenager in the 70's, I could not afford a tech to work on my basses, but the guys at me local music store were nice and showed me how to do a lot of stuff. Then over the years when I got a new bass (new to me, always bought used, vintage Fenders), there were things I did to them in terms of set-up then later rebuilding. I'd remount the neck filling in the existing screw holes and drilling smaller ones, and I'd do the same thing for the bridge. This improved sustain and tone and the solidified the general feel of the instrument. Plus, my set-up work is to die for. I did this stuff just for me and my basses not thinking anyone would see any value in it (modesty can be a killer of inspiration and invention).
My first bass was a Japanese copy of a Jazz bass. And it wasn't that good of a copy either. This was 1971. When I was 17 I finally got up the money to trade in the Crown for my first real Fender, a 1964 Precision. To aid my affordability, someone had tried to refinish it and did a lousy job. So, I took it apart, refinished it and put it back together. I filled in holes and drilled new, smaller holes for the neck and bridge. I put it back together utilizing the same proprietary techniques I use today: small tight screw holes and my clamping techniques for the neck and bridge. Today I realize this is what truly makes a Certain Bass a Certain Bass. This rebuilt '64 P bass was the first bass I used these techniques on. There was a distinct improvement; I turned it into a new bass.
Then I met a bassist named
Toby Myers
, a totally beautiful cat and very nice gentleman. He played in a band called Pure Funk (my local heroes at the time) and later a band called Roadmaster that was really good too. In fact, the St. Louis DJ and singer bandleader Smash was lead singer for Pure Funk.
Toby's bass was a 1964 Fender Jazz Bass that was for-real relic'ed, really badly beat up. An Olympic White with matching headstock. So I thought, "I could trade up from P bass to Jazz because my bass is pretty and his bass is ugly." It worked, we traded. Now I graduate to a beat up Jazz that I played for quite awhile, and, for me, it's definitely the one that got away as I wish I still had it.
So what happened to the Precision bass I traded to Toby Myers? Soon after we traded basses, Roadmaster broke up and John Cougar Mellencamp was just getting signed big. I think this was 1978-ish, Toby got the gig, and he's been with Mellencamp to this day. We recently hooked up (thanks to Facebook), and he told me, "Funny that just out of a trade in a bar, that bass ended up on 95% of Cougar's hits." Today, they call it the "Red and Black." Here's Toby playing it with Moe Zmd: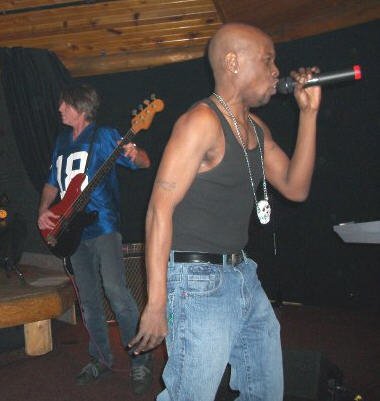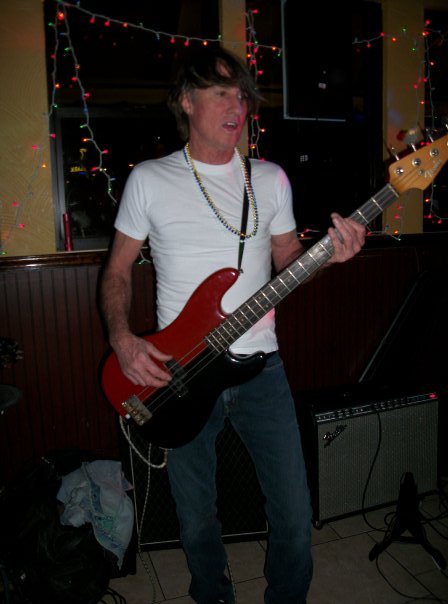 Like many of you, I also got hit by the "boutique bug" and had Alembic make me a custom 6 string bass for thousands of dollars. This was in 1991. I was driving a car that was worth less than my bass. I also had some 5 strings, Steinbergers, a Yamaha, a Peavy TL5 (man, the electronics sucked on that thing, but I replaced them with Alembic stuff). For the past few years I played two Steinberger 5 strings, one fretted and one fretless.

But that was until I was playing a benefit for Albert King's former bassist, Gus Thornton, and I was playing busily and all over the bass like I like to do, and someone said, "It's the bass," like it's not me playing it that makes the difference. So, I said to myself, "I'll just show you," and I pulled my 1973 Jazz bass out of retirement. It felt like an old shoe, a long lost friend. I found that although I had fewer notes with its four strings and 20 fret neck, I could play the heck out of the notes that were there more so than my two-octave multi-stringed basses. So I just started playing my '73 Jazz and just that.

Here we are: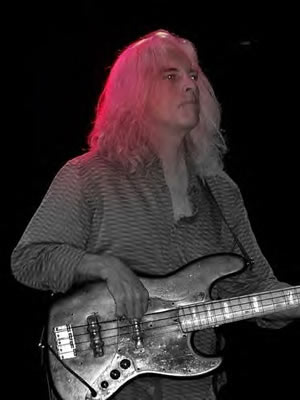 I paid $250 in the early 80's for this bass. I found out how much it's worth today, and about filled my britches! I also don't like walking around with $3500 on my shoulder. I can't replace this bass. So that's when my bass building got started. I set out to replicate my '73 and do some modifications I would never do on my vintage instrument like hum canceling pickups and my self-developed Varitone. It spawned a product line I call "Elita" the top of my line, the creme of my crop. After much effort, I made myself a bass that surpasses my '73, a bass I'd rather pick up than my '73. I call it THE Bass, but it's official name is Elita #0001: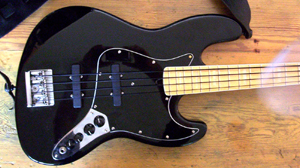 I found that there were many bassists that either want their favorite vintage bass replicated, or they wanted me to recreate their long-lost friend. So in a year and a half, I've blossomed into a maker of custom basses including replicas of vintage Fenders. I did a '61 P bass replica for Edgar Winter's bassist, and a slew of Jazz basses from '62 to '74 vintages to customers' specifications. One guy had a '57 P bass he wanted replicated because he wanted to give it to his daughter so she could buy a house with it some day, and he'd needed something to play. He's in that Allman Brothers/Capricorn Records clique, an excellent bassist.

I'm always honored and humbled to make a bass for someone, and I don't care if you're famous or a beginner. My base price (bass price?) for a Jazz bass is $565 and for a Precision is $545, then we add for options you choose. Most of my basses are in the $800 to $1200 range, but the base price basses are still great playing and great looking instruments. I never want to become inaccessible to those of modest means.
---
Before we talk basses, get to know me a little. Check my
Reviews
and read the feedback and testimonials below. I am a bassist - I really play these things. To show you how demanding I am on a bass and that I really do play
every
note on a bass throughout a performance, please view some videos on the
Performance
section of this website. I am an accomplished bassist who got tired of the junk my students would pay good money for. You can also read about how I
started building basses
. In a word, I build my basses as if I'm going to own and play them myself. This is a higher standard than most other bass builders.
First of all, all my basses are solid as a rock, light as a bird (depending on your choice of body wood) and play like butter. I use a combination of Fender parts, Fender licensed parts and generic parts. You'd be hard pressed to find a better-playing bass in any shop due to my unique build techniques and excellent set-up. Check my feedback - CertainBass owners ALL love their basses.
Any product's quality comes down to two things: materials and workmanship. My goal has always been to make a great playing bass with an authentic vintage look using great parts which I've tested and scrutinized.
An important reason to buy this bass is that I set it up myself. Set-up is a large part of the game, meaning: adjustments for string height and intonation, fret dressing and leveling so we have no fret buzzes.
I have been a professional bassist for over 36 years, and I built my first bass when I was 15. In building a bass I do some things others don't do: I use a clamp to set the neck tight against the body before I put in the screws. This gets the neck tighter to the body than what the screws can acheive by themselves, but the screws can hold that pressure once they're in. I also mount the bridge a little closer to the neck so the saddle screws don't have to be nearly all the way out, which enables correct intonation adjustment like on vintage Fenders. I set the intonation precisely. I drill all holes a little smaller than others do so the screws fit tighter, especially the bridge and neck screw holes. I don't like screws to go in without a little bit of a fight; this results in more sustain and a more solid feel for the overall bass. My tight neck mounting and bridge placement and other build techniques increase sustain and give a more solid feel. When you first get your bass, you'll tune it up, play it without plugging it in and you will feel and hear lots of natural tone resonance. You'll know what I'm talking about. You're not buying a bunch of parts slammed together; you're buying a musical instrument where the whole is greater than the sum of the parts.
I'm also glad to answer any questions about bass things regardless of whether or not you buy from me. I simply want to help you to get the bass you want. I'm always glad to share my knowledge and experience. My main purpose in life is to make the bass world a little better. It's an honor to play bass, teach bass, build basses and help fellow bassists. Let's not take our musical gifts for granted; we are blessed to be able to do this whether professionally or for our own pleasure and satisfaction..
---
Boutique custom basses without the custom boutique price.
A Bassist building basses for Bassists
One at a time!
---
On an unfortunate negative note, I can't believe the lousy set-ups on basses at music stores, especially the big names. They'd have fine basses if they worked on them, but they go with the manufacturer's setup, and the lower priced models play poorly. You don't have to worry about that here. Much of what I'm offering you is a bass that is a finished product and feels and plays like basses costing thousands. Having owned an Alembic for nearly twenty years, I try to emulate that high quality set-up and playability.

I have played with some of the biggest names in jazz, literally living legends: Terrence Blanchard, Dave Valentin, Eddie Henderson, Jimmy McGriff and many, many others. I also own and play numerous Jazz and Precisions basses (my fave is my '73 Jazz), an Alembic 6 string, two Steinbergers (one fretted, one fretless) ESP, and a Peavy TL-5. Trust me, I know basses. And let me assure you - if I like a bass, you will too.


---

Please note: Fender is a trademark of the Fender Musical Instrument Company (FMIC). This term as well as other trademarks are used in my listings for comparison only and to identify the parts I use in my products, and this is in accordance with eBay policy and trademark law. FMIC claims a plethora of trademarks including the capital letter F. Do not confuse my basses with those made by Fender; my customers actually say mine are better instruments. Fender makes some exceptional instruments today. But, my basses are made by my hands as opposed to robots, and they are set up by a working, accomplished, professional bassist (me) as opposed to an hourly employee with no personal investment in the finished instrument. My personal attachment to vintage Fenders is a combination of romance and investment. I respect the current Fender Musical Instrument Company for attempting to continue Leo Fender's legacy; they are a very good American company. I have loved and played Fender instruments for most of my life. No one is more responsible for the sound and tone of American music than Leo Fender from his guitars, amps and basses to the Fender Rhodes electric piano sound still prevalent in the modern synthesizers of today. There is at least a little Leo Fender design in every electric bass made.
---
david@certainbass.com or 314 762 0902
Return to Home Page